Dacorum Coach wins prestigious award
14th September 2013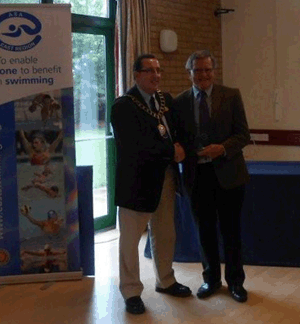 On 14 September the ASA East Region Aquaforce Volunteer Coach of the Year award was presented to Peter Jewell at the Region's Annual Council Meeting.
The ASA has introduced the Aquaforce Awards this year in order to celebrate the work up and down the country performed by volunteers in all the aquatic disciplines, week in and week out.
The award to Peter reflects the work that he has put in over much of the last 20 years to the Dacorum Diving Club community, particularly when formerly St Albans Diving Club.
The East Region presented seven Aquaforce awards altogether, the top one being Volunteer Coach of the Year. This means that Peter will represent the East Region at the ASA's Annual Dinner on 19 October when the country's top volunteer will be chosen.
Peter would like to thank colleagues at Dacorum Diving Club who have supported him over the tears and supported him for this award.