Back to News
G-Star Diving Championships 2013
17th - 19th May - Leeds
Five Dacorum divers traveled to Leeds for this years G-Star Championships, with two divers making the top 6 in the prelims to go through to the finals.
Harrison Mills competed in the Boys Group D competition on the 1m, 3m and Platform events.
He dived consistently on all three boards to finish in the top 14 on 1m, top 10 on 3m and in the top 11 on Platform.
Danielle Plumb competed in the Girls Group C category on the 1 and 3m springboards.
In a hotly contested competition with 37 divers competing on the 1m, Dani dived well to finish in the top 13. The 3m field was just as big with 36 divers competing to get into the final; Dani dived consistently and finished in 16th place.
Matthew Riley and Samuel Rudd competed in the Boys Group C,with Sami doing all three boards, and Matthew on two boards.
On all the boards Sami faced tough competition from many Elite Junior divers, and finished in the top 18. The 1m competition netted him a well earned 17th place, with a 15th place on the Platform.
Matthew wasn't able to compete on the 3m due to the Friday clashing with SATs week; however he definitely made it up on the 1m, finishing 4th in the prelims to make it into the final where he finished in 3rd place. In the platform event Matthew finished in 8th place in a competition filled with Elite Junior divers, making it a very good day at the office.
Ben Page competed in the Boys A+ category on the 1m and Platform, he was due to compete on the 3m but due to an injury sustained during his last platform dive, he had to withdraw.
On the 1m, Ben dived well to win a place in the final, where he placed 5th overall. In the Platform event, he dived mainly from the 10m and earned a place in the final where he finished in 4th place overall. Due to the injury he sustained his last dive scored lower than normal and he missed out on 3rd place.
Well done to all divers who competed at G-Star.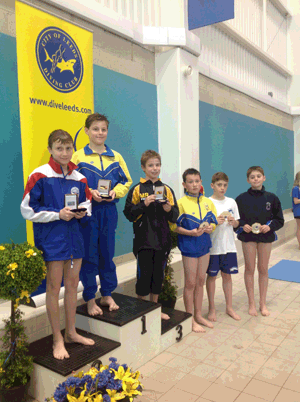 Back to News