Albatross Interclub Competition 2012
9th June 2012 - Reading
Two Dacorum divers competed in Reading at this year's Albatross Interclub Competition, a popular novice competition for divers from the age of 7 years upwards.
Depending on age, the diver can compete any four dives off of the boards allowed for their age group, and these can include line-ups.
The top three divers in each competition each received a trophy, instead of a medal; and this is one of the reasons many divers love to compete at this competition.
Girls Group D

Girls Group A

Gold
Briar Snelling
128.70
Bronze
Stella Dixon
91.90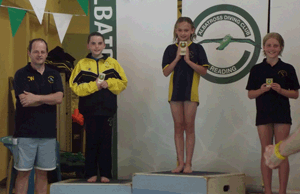 Briar Snelling - Girls Group D Champion
Congratulations girls!!