Wally Clark Memorial Cup 2012 results.
21st April - Morden Park, London
Dacorum Diving Club fielded a small team of six divers to this years Wally Clark Competition. This competiton is aimed at Novice divers and comprises of three poolside skills, three 3m line ups, and the two optional 1m dives.
The Wally Clark Memorial Cup also has another competition - the Bombing Competition, where the trophy looks like a stick of dynamite. This involved divers, and their coaches trying their luck at making the biggest splash and tidal wave possible.
Many opted for the 5m platform takeoff with a' human hand grenade' entry, a great competition to watch, with most participants having a bright future as 'Diving Clowns' or stunt performers.

Briar Snelling - Girls Group D Champion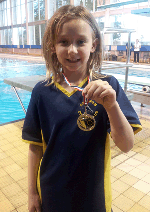 Group D Girls

Group D Boys

Gold
Briar Snelling
177.95
7th
Samuel Rudd
169.75
9th
Louie East
159.85

Group C Girls

15th
Lochlan Crowder
145.90
7th
Bethan McLaren
172.40
9th
Zoe Gray
168.55
| | |
| --- | --- |
| | |
| Bethan lining up a Front Tuck Roll-off | Briar in position for a Pike Fall |
Well done to all our divers.